CENTER FOR LIVING WELL - MANAGEMENT TEAM
Betty J. Edmonds, MBA, MAT, Senior Director of Client Operations
Betty Edmonds brings more than 20 years of experience in healthcare. Before joining the Center for Living Well, she served as a Regional Healthcare Administrator, Regional Operations Manager, and VP of an outpatient physical therapy practice. She enjoys improving operational workflows and providing exceptional care services to our client and the members we serve at the Center. Betty graduated from William Howard Taft University with an MBA in Healthcare Administration and a Master of Arts in Teaching from Norfolk State University in Virginia. She enjoys traveling, fishing, baking, attending church, cooking, and spending time with her family and friends.
Tara Marvin, PMP, Director of Client Operations
Tara Marvin graduated from the University of Kansas after studying Psychology and Marketing. She worked for WIRED Magazine and The Washington Post before co-founding the non-profit organization Leadership 4Girls in 2010. After managing their operations for eight years, Tara joined the Center for Living Well in 2018.  Tara is focused on creating collaborative and efficient processes as the Center for Living Well continually expands with new services for our Cast Members.  She is honored to work with a team dedicated to providing superior care while treating the whole person.  In her free time, Tara enjoys spending time with her friends, family (including the dog), playing racquet sports, and being a softball mom.
David Magness, DO, MBA, FACOFP, EPCOT Medical Director
Dr. David Magness is a board-certified family physician and a fellow of the American College of Osteopathic Family Physicians. He went to medical school at Nova Southeastern University in Fort Lauderdale, FL and completed his family medicine residency at Aurora/St Luke's Family Medicine Residency in Milwaukee, WI. While practicing at the Center for Living Well, he earned his Master of Business Administration from the University of Wisconsin Consortium. 
He and his family moved to the Orlando area in 2012 to be closer to family. Prior to working at the Center for Living Well, Dr. Magness worked at a federally qualified health clinic taking care of indigent, uninsured, and homeless patients. He has a special practice focus taking care of patients who have Viral Hepatitis infection. Dr. Magness loves to visit new places, play saxophone and guitar, and watch all sports. He says, "I want to help our patients be better informed about their health, evidence-based medicine, and preventive measures. I want to work together as a team to help our patients be as healthy as can be."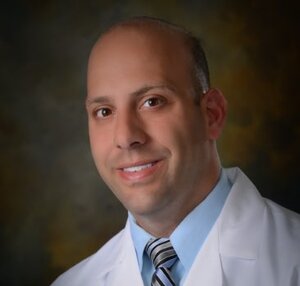 Anthony DiNardo, DO, Celebration Medical Director
Dr. Anthony DiNardo joined the Center for Living Well in 2015 and serves as our Medical Director at the Center for Living Well – Celebration. He obtained his Doctor of Osteopathic Medicine degree at Philadelphia College of Osteopathic Medicine in 2010, and in 2020 became board certified in Lifestyle Medicine to support his passion of preventative health, weight loss management, and reversing chronic metabolic disorders. As a firm believer that the body is capable of self-healing, Dr. DiNardo uses this philosophy to ensure he and the providers at Center for Living Well empower patients to a healthier and happier lifestyle. 
He and his family are active with several outdoor activities including biking, swimming, and participating in local community and church events.
Michelle Rosario, MA, Celebration Health Center Manager
Michelle Rosario is the Clinical Operations Manager at the Center for Living Well. She has been in the healthcare field for over twenty years. She began her professional career as a Hospital Corpsman in the United States Navy. She became a Medical Assistant and continued her career, serving as an MA in rural primary care offices. After several years in the healthcare field, she returned to school and obtained a Bachelor of Science degree as a Healthcare Administrator. Michelle was born and raised in East Tennessee. She enjoys spending time with her family and loves to travel.
Catherine Gordy, Epcot Health Center Manager
Catherine received her Bachelor of Science in Healthcare Administration with a concentration in healthcare management from DeVry University. She earned her master's degree in Public Administration with an emphasis in healthcare management from Keller Graduate School of Management in 2020. Catherine comes to us from Atlantic City, NJ where she worked at another Premise Health site for 14 years. In her spare time, she enjoys spending time with her family and friends.
Fun Fact: Growing up she was in a singing group.
Dawn M. Cullen, Operations Support Manager
Dawn brings to the Center for Living Well more than 15 years of experience in healthcare management. Having worked for the provider, the payer, and the federal regulator, she is familiar with all aspects of the healthcare delivery system. Dawn earned her bachelor's degree in Communications in her native city of New York. She has used her skills to advocate patient-centered care and champion the adoption of evidence-based best practices for improved outcomes and reduced costs. As a project manager, she has supported many initiatives emphasizing process/policy enhancements, quality improvement, marketing and communications, provider education and engagement, regulatory compliance, and member satisfaction. Her background and experience lend a unique perspective to the healthcare transformation conversation. She strongly believes that with small efforts we can each have a tremendous impact on the lives of others. When not serving as a change agent, Dawn enjoys cooking, nature walks, time with friends and family, artistic pastimes, and learning from YouTube educational videos.
Valencia Williams, Epcot Clinical Operations Manager
Valencia has been with the Center for Living Well – Epcot since 2008 and was a member of the opening team. Valencia created the Center for Living Well's mission statement, and she strives to promote that mission daily. She enjoys spending time with her kids and spouse.
Lora Cordero, Celebration Clinical Operations Manager
Lora Cordero has been in the healthcare field for over 12 years. She started her career in internal medicine and has since gained experience in various medical facilities. She joined the Center for Living Well – EPCOT in 2014 as a Certified Clinical Medical Assistant. She was part of the opening team for the Celebration location as an Administrative Medical Assistant and is now the Clinical Operations Manager. Lora is a Certified BLS CPR Instructor with the American Heart Association. Outside of work, she enjoys spending time with her two fur babies, reading, K-dramas, and gaming online.
Katie Jadra, PharmD, Pharmacy Manager
Katie is originally from Connecticut and earned her Doctor of Pharmacy degree at Northeastern University in Boston, MA. After graduating in 2004, she relocated to Florida. Katie believes few jobs are as important as the pharmacy staff's commitment to ensure our Cast Members' good health and wellness. Outside of work, she most enjoys skiing, running and spending time with her husband, daughter and son.
Jason Hunkele, Pharmacy Manager
Jason Hunkele is originally from Pittsburgh, Pennsylvania where he earned his Doctor of Pharmacy from Duquesne University. After graduating in 2002, he worked for Walgreens in multiple settings ranging from retail, specialty, to onsite. Jason is responsible for managing the Center for Living Well Pharmacy. Each day he strives to help Cast Members and their family members reach their health goals by building trust and genuine relationships. Jason is an avid sports fan (Go Steelers!), enjoys the outdoors and spending time with his family. 
Marisol Pacheco, MA, Population Health Manager
Marisol Pacheco joined the Center for Living Well family when it first opened in 2008. She first started her career at CLW as a Medical Assistant, then became a Patient Advocate, and is now the Population Health Manager. In May 2018, she graduated from Columbia Southern University with an Associate of Science in Health Information Science with Medical Coding emphasis and as a proud member of The National Society of Leadership and Success (Sigma Alpha Pi). In her spare time, she enjoys spending time with her family and loves singing karaoke and dancing.
Giovanna Linquanti, Health Information Department Manager
Giovanna Linquanti, RHIT, is the Registered Health Information Technician for the Center for Living Well. She has a degree in Health Information Management and several years of experience in the medical field. Giovanna looks forward to assisting our patients and providers with obtaining medical records and facilitating the completion of all medical forms. She specializes in patient inquiries regarding FMLA, disability and more. Giovanna was born and raised in New York. She loves the arts and enjoys traveling in her free time.
Lisa Martin, PharmD, Healthy Living Pathways Director (Epcot & Celebration)
Dr. Lisa Martin is the Director of Healthy Living Pathways at the Center for Living Well. She is a clinical pharmacist who is board certified in Advanced Diabetes Management, a Certified Diabetes Care and Education Specialist, a diplomat in Lifestyle Medicine, and a Certified Health and Wellness Coach. She received her Doctor of Pharmacy degree from the University of Maryland in 2007 and completed her residency in Ambulatory Care at Florida Hospital Celebration Health the following year. Prior to joining the staff at the Center for Living Well in 2014, Dr. Martin was faculty at the University of Florida College of Pharmacy specializing in diabetes, anticoagulation, cardiovascular health, and immunizations. Apart from work, Dr. Martin is a baseball mom and enjoys spending time with her family discovering new and fun things to do in the central Florida area.
James McNichol, MS, CSCS, FMS, Movement Manager
A native of central Florida, James attended the University of Central Florida for both his undergrad and graduate degrees. Along with his Master's in Sports and Exercise Science, James is also a Certified Strength and Conditioning Specialist, having previously worked as a strength and conditioning coach in professional baseball for three years. Prior to joining the Center for Living Well, he was an Exercise Physiologist with AdventHealth, primarily working with their Executive Health Program conducting comprehensive health and fitness evaluations. James also has a background in working with special populations, corporate wellness and group fitness. Outside of work, he loves running, reading, and traveling with his wife and two sons whenever possible. 
Jeanine Robles, Front Office Manager, Celebration
Jeanine Robles is the Front Office Manager for the Center For Living Well-Celebration. Jeanine holds a degree in Communications and has many years of experience in the medical field. She began her management career at YAI, which is a Medicaid health clinic for those with special needs in New York, and expanded with Children's Hospital of Philadelphia, and the Center For Living Well. Jeanine is a native New Yorker with many travels. In her spare time, she loves music, traveling and working with people.
Courtney Chase, Executive Admin
Courtney came to the Center for Living Well from the world of Hospitality. Once she graduated with her degree in Communications from Millersville University in Pennsylvania, she moved to Florida and worked for the Walt Disney Company. She continued her hospitality career with roles within Marriott, the Peabody Hotel and Hyatt.  Courtney believes that our Cast Members work hard to provide an amazing experience to guests, so part of our role is to provide the same level of service when it comes to their healthcare. In her free time, Courtney enjoys creating and going on adventures with her husband and two daughters.